;
Great news, St Barts has reopened
20-Jul-2020
With great joy for this Caribbean destination, it was announced that the island of St. Barts has reopened its borders from June 22, 2020. The island's Tourism Committee, headed by Nils Dafau, extended the invitation to everyone.
With great joy for this Caribbean destination, it was announced that the island of St. Barts has reopened its borders from June 22, 2020. The island's Tourism Committee, headed by Nils Dafau, extended the invitation to everyone.
After a few months since it was decided to close the island for the sake of the population and tourists, the corresponding authorities have decided that the island is a safe place to receive visitors, the port of Gustavia and the airport Gustaf III, have reopened to receive anyone seeking a vacation in this paradise Caribbean destination.
Enjoy and treat yourself with a unique moment of peace and quiet, St Barts is the best place to find it.

Le Barthélemy will be ready for you
It is a thrill for the team at Le Barthélemy Hotel & Spa to announce our clients and invite them to our reopening this October 28th. With our well known couture hospitality and the health measures needed to make your return to St Barts an unforgettable experience.
On the shores of the Grand Cul de Sac Bay, our superb facilities are designed to make your vacation in the Caribbean as enjoyable as possible; let our team pamper you and find true serenity in paradise.
As we are so excited to welcome you back, we have prepared some gestures of appreciation to thank you for the preference and trust you place in our hands for your well-being.
To thank you for your trust we propose Celebrate together: Book 2 nights and get the third for free, in addition to other benefits that you can check here.
In order for you to explore our beautiful island at your leisure, we offer you the "Early Bird" service, where you can enjoy a complimentary rental car during your stay in december, as well as arrival and departure transfers with our Chauffeur to/from the hotel, among other benefits.
"Buy Now Stay Later" is an innovative program that is being implemented by hotels that are aware of and eager to thank their customers for their loyalty. It consists of buying "hotel bonds" that increase the value of the clients' investment by 50% after 60 days. For example, if you decide to buy $100 USD, after 60 days you would have a bond worth $150 USD. You only need to do the math to realize how beneficial "Buy Now Stay Later" can be for you.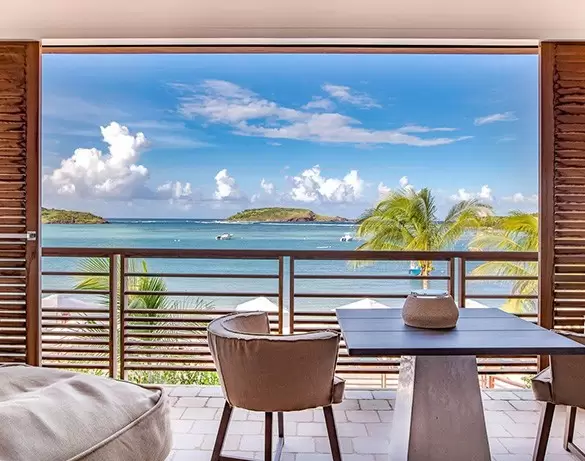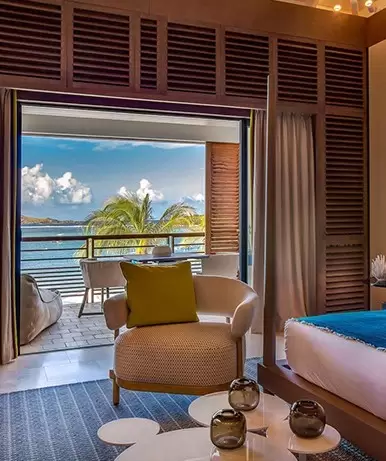 A secure heaven for your well-being
The dreamy beaches, white sands and landscapes beyond your imagination are ready to welcome you to this Caribbean destination. The island's restaurants, cafés, boutiques, bars and attractions are open to all with their corresponding preventive health measures. For everyone on the island, the main thing is your well-being and that everything goes smoothly in this reopening.
Since the global quarantine began, very few cases of Covid-19 were detected on the island, the last positive one being in April. This destination has officially been a virus-free territory since 11 May 2020.
Authorities in France and St. Barts have coordinated to keep it that way. A strong investment has been made in the medical area, as a preventive measure, in addition to using protocols to receive visitors. A negative test will be required at least 3 days prior to entry to the island; this is to keep visitors and residents safe.
Although some hotels have decided to reopen their doors to receive visitors from this summer, most, such as Le Barthélemy Hotel & Spa, will resume their services this fall.
However, if you can't resist the urge to visit this Caribbean destination, there is a considerable amount of villas that you can book for a much more intimate stay. Find the perfect fit for you from the size to your most wonderful expectations, our team at Le Barth Villas will be available to help you throughout the summer.
We await you with excitement, safety measures and flexibility
For the team at Le Barthélemy Hotel & Spa your well-being is our top priority, which is why we have implemented measures to ensure that your stay at our facility is risk-free for you and your loved ones.
You can be sure that the complete service offered by Le Barthélemy remains, if not more tailored to satisfy all your wishes. In-room spa treatments, personal yoga guru, paperless check-in and check-out, which will be managed electronically, as well as the virtual menus of our restaurant; lunch and breakfast buffet will be served in the comfort of your room.. You can discover other proposals here to give you a better idea of the special delights and measures we have prepared for your well-being in your next adventure in St Barts.
In addition to the health measures adapted to you, we are aware that the world is constantly readjusting and you may have to reschedule your vacation. We are in the best disposition for you, so our cancellation and change date policy is quite flexible: you can cancel your reservation up to 31 days without any extra charge, and we give you up to 12 months to accommodate your booking from the original date.
We can only thank you for your preference and invite you to celebrate our reopening. We look forward to helping you have a glorious holiday in this Caribbean destination.
More blogs.
All
Our Island
Our Hotel
Our Collection
Events