;
How to be a green hotel? According to Le Barth
31-May-2021
Environmental commitment is one of the most –if not the most– respectable and ambitious resolutions one can have. To understand your own role and impact as an inhabitant of this planet, to take action and act responsibly in consequence can only take us to the right path.
We most certainly must hold ourselves accountable, but we also have to revisit the others. By questioning what others are doing to be greener, healthier, better we are also able to understand what we can do.
That's why us here at Le Barthélemy want to share our efforts to be a sustainable hotel with you. We want you to know that our commitment to the environment is just as fierce as our commitment to you and your comfort.

The clean ends justify the clean means
There are many ways to be cleaner: by reducing your emissions, by working with ethically produced goodies, or, perhaps the most popular one, by turning to alternative energies, such as the warm and powerful one of the sun.
Here at Le Barth we do, in fact, rely on solar energy. A big part of our electrical power is produced with panels strategically placed to make the most out of our privileged location where the sun is shining almost every day. Around 50% of our electrical demand is clean, just enough to cover basic needs such as warming the shower water. Certainly one step closer to being a completely green hotel. Having a low impact is part of the hotel values as well, for so all the hotel is equipped with new generation LEDs for low energy consumption.
Speaking of water, we're surrounded by it! If there's one resource that will never be scarce here in the hotel, you can trust it'll be water. Even though we're surrounded by the ocean and that water is not drinkable per se, we still can rely on it, since we do have our own desalination station.
As a sustainable hotel, all of our water is provided by our water desalination station. With our water supply coming straight from the ocean and being processed here, we don't have to rely on any other water companies that may or may not be clean. We control our process, and we take full responsibility for our environmental impact. Le Barth tries to have no water waste, that's why gray waters from the rooms and the restaurants are internally treated and filtered to be reused for watering the gardens of the hotel, designed with indigenous plants with hydraulic bio-irrigation benefits.
We, too, encourage our guests to control their water consumption. According to the European legislation, showers and sinks both have bathroom aerators to reduce water consumption. Guests will also find an incentive card if they want to choose to reuse their towels and linen one night more.
Another goal we have is to live by a zero-waste philosophy at the restaurant. A huge part of truly understanding our impact is by looking at what we consume, yes, but it's also important to be critical about what we don't. That's why, here at Le Barth, as a part of our efforts to be a green hotel, the staff has access to the same type of food as the guests. This way, we can assure that we make the most out of everything we use in regard to food.
Last but not least, Le Barth focuses on its materials for ethical and environmental means. In the room, linen, towels are made in France with organic cotton. In its process to becoming a more green hotel, Le Barthélemy has decided to stop using plastic materials for more than a year, proposing all their takeaway meals in recycled paper packaging.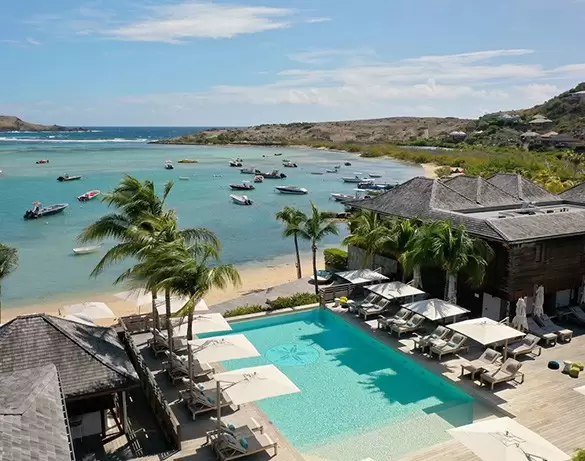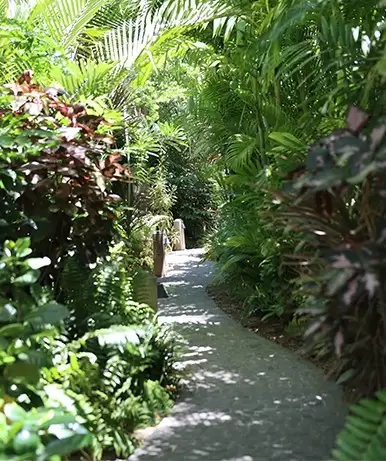 A sustainable hotel with social touches
Being socially committed is just as important as being environmentally committed. In fact, they're two sides of the same coin. You cannot talk about being a sustainable hotel without also taking into account the social aspect of it. Strengthening local businesses, consuming things that were ethically produced, being respectful of the production culture and hand work that go towards things.
Keeping up with what we mentioned earlier about looking at what we consume, we also take into account where it comes from. Even though most of the food on the island is imported, since St. Barts' soil is not kind for agricultural purposes, we still work with our neighbors to procure what we can. Local fishes such as tuna, mahi-mahi, and others allow us to help in-island businesses to grow.
We also have ethically bought amenities, such as the welcoming packs, which are not produced in countries where the workforce is underpaid or underage.
In addition, our products don't deteriorate the fauna and flora of the island. For example, all solar crèmes proposed at the hotel are adapted for the lagoon and won't pollute it. The materials we use for construction are also of natural origin helping in reducing emissions and being eco durable and responsible, such as wood and rock. We try to integrate a real Caribbean modernist architecture that also respects the overall design and disposition of the island, mostly to not be over the top and disregard its natural tendency.
Everything we've shared here is only a look into our commitment, a brief taste of the strategies we've implemented and are looking for to be better and keep growing as a green hotel.
Being truly responsible involves hard work, but the reward is certainly worth it. Knowing that you're helping, that you're a part of the bigger goal of being a little bit kinder to the planet, is all it is about and here at Le Barth, we're all about it too.
More blogs.
All
Our Island
Our Hotel
Our Collection
Events