;
Carioca NoMundo visits Le Barth
22-May-2023
Recently, Internet sensation and insightful travel expert Jayme Drummond, also known as Carioca NoMundo, visited our beautiful hotel in dreamy St. Barts, and all of us at Le Barth were more than happy to welcome him in a much-deserved vacation filled with endless sunny days, utmost fun, and the best company.
From the very first moment, he documented his trip for all of us to take a look at, and for travel enthusiasts to see first-hand just how amazing the #1 Resort in the Caribbean truly is and how easy it is to fall in love with our breathtaking little island.
Follow us as we review his journey, and tag along on the adventure.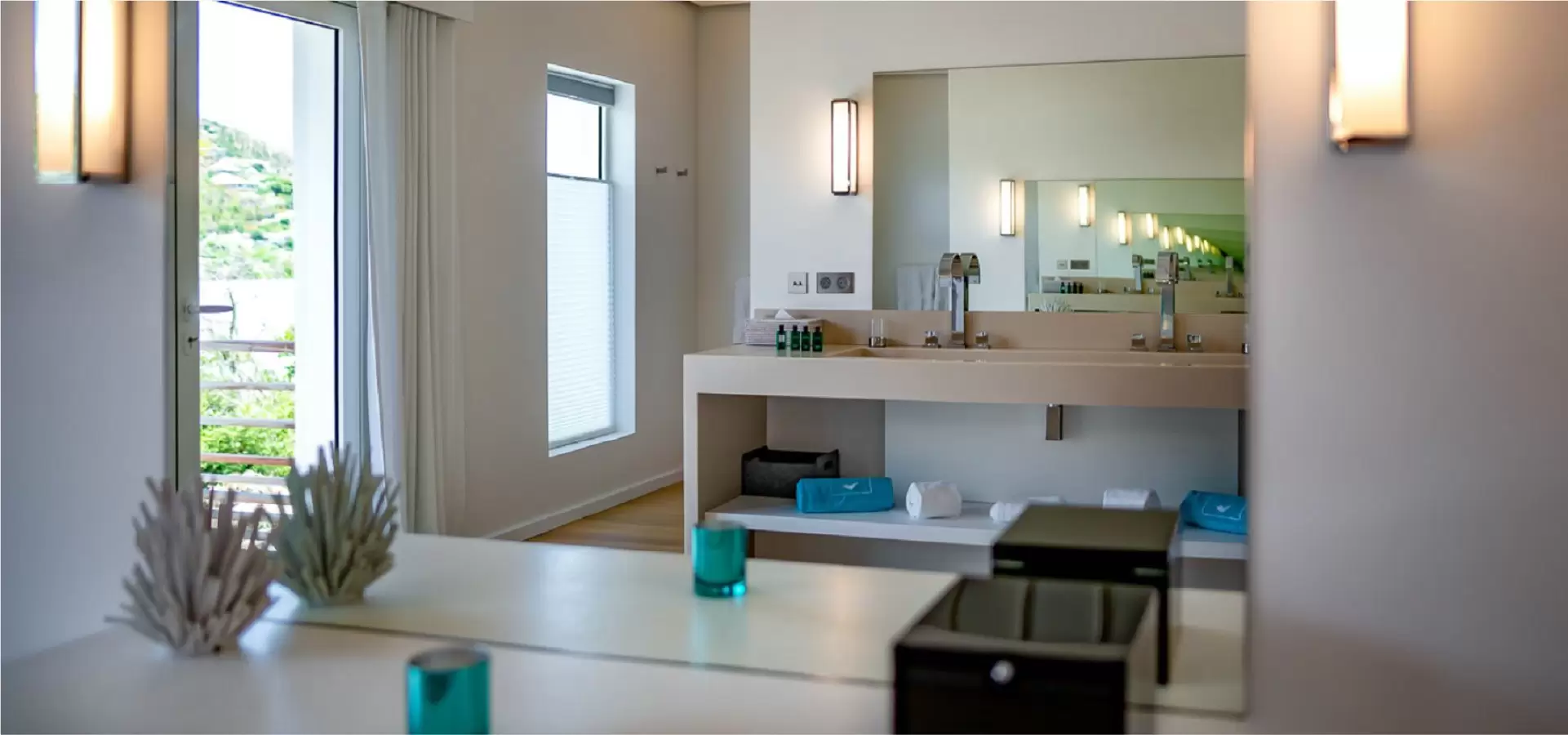 Arriving in St. Barts.
Jayme first greets us from the Saint-Martin Airport, a small stop necessary to reach St. Barts. There, he jumps on a plane en route to our sunny island and flies over the beautiful, sparkling blue sea before he lands, and we can even see a few mountains and hills, green as can be, in the background.
All of this, of course, lived through the front seat of the aircraft — an exquisite adventure even though it is merely 15 minutes long. The best 15 minutes of your life, though, and surely something you'll want to do over and over again.
As he arrives at the island, he's personally welcomed by Maksym, our dedicated hotel manager and hospitality expert, and the short 10-minute drive from the airport to the property is easygoing and unhurried, filled to the brim with bewildering landscapes.
It is with great joy and excitement that he arrives in a "tranquility refuge with a gradient of St. Barts ocean's blue in the background". His words entirely, not ours!
He stayed at Villa Bleu and upon arrival, had a welcome mimosa already waiting for him by the door.
At first sight, right after walking in, Jayme described the villa as cinematographic. Big, bright, and welcoming. A bottle of Champagne Leclerc Briant awaited as a welcome gift alongside cheese, fruit, and cold meat trays. Bon appétit!
As he tours around the villa, marveling at the wonder of it all, we get to see first-hand the wide and carefully-lit spaces, absorbing the natural light. He visits every room, walks around the kitchen, checks out the deck, and even shows the many little treats hidden here and there, like the high-end Diptyque bathroom amenities.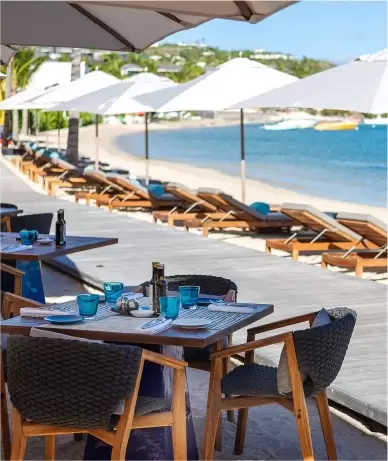 Sun and fun all around.
After touring around the villa, he takes a refreshing swim on the private pool overlooking the sparkling blue Caribbean Sea and later on, dives into the ocean, finally getting to the soft beach awaiting right in front of the private deck of the villa.
Jayme then grabs a bite in Amis St. Barth, sitting by the beach, feet in the sand — a delicious experience overall, with exquisite lobster tagliatelle accompanied by exquisite views of the shoreline and soft chatter in the background.
To keep the afternoon alive, he takes a mixology class with our skilled bartender, and together they create a delicious and colorful drink, bright and green as the surrounding nature and perfectly refreshing after a day spent having the most fun.
Cheers! To an unforgettable first day in paradise.
The following morning, he wakes up slowly and enjoys a full breakfast, petit-déjeuner style delivered right to the villa, with fresh fruit, avocado toast, tasty jams, and the best bread arriving in an exclusive Le Barth Villa Rental box – fresh ingredients, in typical French fashion, with top-notch gastronomy.
Later, he uses one of our rental cars to go out and explore the island. He visits Gustavia, the capital of the island, and walks around the many luxury boutiques and exquisite restaurants. Jayme visits Gouverner Beach as well, and picnics away with a kit carefully prepared by our team and provided to him by Maksym. Fresh fruit, yogurt, refreshing drinks, and the best time!
Afterward, he treats himself to a 50-minute relaxing massage at the Spa, and to close it all off on the highest note, he dines at Amis St. Barth, where he tries a series of different dishes carefully cooked by Executive Chef Vincent Gomis, accompanied by a curated selection of wines.
To discover every detail and live it all alongside Jayme himself, go check out his video and indulge in a tale of a wonderful time by the beach.
Obrigado, Jayme! Having you here has been an honor, and we are looking forward to welcoming you in again.
More blogs.
All
Our Island
Our Hotel
Our Collection
Events