;
Aux Amis restaurant, a Caribbean restaurant that lifts the senses
01-Apr-2020
Beautiful white-sand beaches, the crystal-clear waters of the Caribbean Sea and the caressing breeze make St. Barts island a small piece of heaven placed in the French Caribbean, one of the most coveted destinations by its distinguished visitors.
On the island, restaurants have been established with the goal of pleasing the most gourmet clientele. With flavors from all over the world, there is a wide range of possibilities, and among the most sought-after cuisines by diners is, naturally, the worldwide alluring French gastronomy, which each chef seeks to recreate with their own touch.
Since 2016 Le Barthélemy Hotel & Spa's Aux Amis Restaurant has developed its own concept under the expert leadership of William Girard, a chef with vast experience in Michelin rated restaurants, acquired under the mentorship of Yannick Alléno, 3 Michelin Starred Chef and highly regarded in the culinary world. With this on his back, William has been able to bring a unique touch enhanced by his expertise in satisfying the expectations of its visitors. We had a conversation with William Girard, where he shared with us the journey to making Aux Amis into a culinary reference in St Barts.

St Barts is ready for a cuisine that is locally sourced, unfussy and fresh.
Aux Amis by Le Barthélemy Hotel & Spa is located northeast of St Barts, in the beautiful Grand Cul de Sac Bay. Aux Amis offers a peaceful aura, the sea breeze and a privileged position to glance at the landscape of the serene waters of the Caribbean to accompany a delicious meal served with the warmth and diligence of the team led by executive chef, William Girard. Ever since his arrival, he has a very clear idea about what he wants this Caribbean restaurant to feature: "We are taking Aux Amis to a bistronomic gourmet cuisine direction." He emphasizes.
Aux Amis, at the quest to excel and have its particular style, offers to the guests a proposal of quality gastronomy, based on family and regional traditions with modern accents, that evoke pleasant moments, all in an atmosphere where elegant and relaxed details are highlighted. In the words of Girard: "A fresh, comprehensible cuisine, with simple names, fish, soups, vegetables, nice plates, nice supports for the food". A gastronomy style that does not exist in other restaurants at St. Barts.
Arriving in 2016 for Le Barthélemy reopening, William Girard was aiming to discover new working horizons, he was interested in the executive chef position as he felt confident with it. At that time,Guy Martin was Aux Amis' consulting chef, and together they worked on developing the restaurant to the unique spirit that now holds.
After one year under Guy Martin's consultancy, William Girard took the full role as the principal chef at Aux Amis. Due to his experience, knowledge and listening to his clients, he has brought together and merged different cuisine styles, getting closer and closer to the Bistronomic concept he is looking for in which Aux Amis clients can savor his gourmet dishes.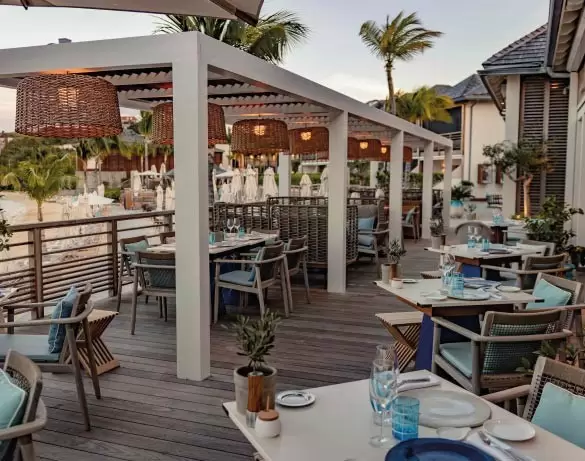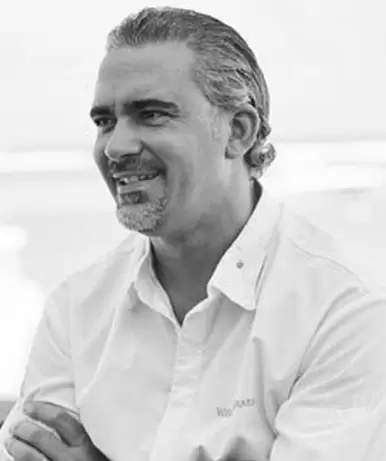 The best cooking begins from the heart at Aux Amis.
From a very early age, William Girard knew that life would bring him to the kitchen. "My grandfather worked in pastry and as a gardener", he says, "so it was either one or another". With the cooking gen in his DNA, he enrolled in the Hospitality School in Biarritz.
As for his beginnings, coming from a Basque family in which everybody cooks and everything is prepared at home, he was always surrounded by what later would become his life's purpose. "When I had to choose at 13 years old, I chose the kitchen. And hazardously, it worked!" he comments, with a sparkle in his voice "It has been 25 years now and it's still working".
William Girard's career has taken him to different parts of the world, from Paris to Dubai, Hong Kong, Taipei and Bangkok. As he mentions, much of his time abroad was spent with Yannick Alléno. 10 years of apprenticeship with one of the most skilled chefs in the world, achieving Michelin Stars in different establishments across the world. In all this time he learned to adapt, fusing French and local gourmet cuisines, the flavors of each region and the expectations of each population. Thanks to these works around the world he has been able to create a unique cuisine.
Besides the work experience, William Girard, also bears to Aux Amis a dish with a very personal inspiration from Pays Basque, a region southwest of France on the Atlantic coast, where he grew up. Customized to the expectations of St Barts' guests, it's a recipe you can't miss on your time at Aux Amis by Le Barthélemy Hotel & Spa.
"When I was young, I internshipped 2 months at L'Auberge de La Galipe, with chef Christian Parat, 2 Michelin Stars, he used to be one of my teachers at the hospitality school. He used to prepare a boudin with apples. This boudin was from my village, a local used to come and do it, the chef would just add the glazed apples. In 1989, the chef got 2 Michelin Stars with this plate.
I've chosen to present this plate in the menu At Aux Amis. I import the boudin from my village in the South of France. It's kind of my signature plate now. People should taste the boudin, just saying... we are the only one to do it."
Years down the line, his chosen career keeps flourishing and his experience growing. Discover William Girard's unique touches at Le Barthélemy Hotel & Spa's Aux Amix Restaurant.
Sharing delight in cuisine.
Over time, the brand of Aux Amis as a bistronomic restaurant has come closer to being firmly established, with its foundation in the skilled cooking and a customized service in line with the customers' desires and to the ambience in continuous pursuit of the comfort of our diners. With the expert knowledge of William Girard, the appropriate adaptations have been made so that this Caribbean restaurant can have its own gourmet soul between the others in St. Barts.
"We are bistronomic, gourmet cuisine, greedy, with flavors, experience, something original, pretty on the plate. It is a global experience, it's not only cuisine, it's the place, the service, the vibe."
Among the sections that compose Aux Amis, we can find Aux Amis Plage, a beach restaurant on the white sands of the bay of Grand Cul de Sac, where you can enjoy a delicious al fresco meal."It's a beach restaurant, long chairs, snacking, sharing, portions are well served."
It is fascinating to taste and share the food while feeling the sand beneath you, and hear the rhythmic swaying of the calm waters of the Caribbean, in an unbeatable location on one of the most gorgeous beaches in St. Barts.
Aux Amis Restaurant is a more intimate space reserved for our most distinguished clientele. This is where bistronomic stands out: William Girard's ingenious cuisine, perfect for fulfilling all the senses. Surrounded by fine wood and a colorful decoration inviting for long conversations in a commendable atmosphere. A striking feature is a huge fish-shaped ceiling light, with colorful lights in perfect conjunction with the room's decor., a memorable experience worth sharing.
And once you have toured with us through this blog, you now have an intimate vision of the service and concept that Aux Amis restaurant has in store for you, as well as an extra reason to stay at Le Barthélemy Hotel & Spa and have at the foot of your room an experience that will lift your senses.
More blogs.
All
Our Island
Our Hotel
Our Collection
Events