;
Revel in exquisite beach dining experiences in St. Barts
13-Apr-2023
Surrounded by the warm-cozy atmosphere of St. Barts and the crystal-clear waters of the Caribbean, Amis St. Barth, our beachfront French-Mediterranean restaurant, seamlessly blends the best of both worlds: exquisite service during a superb dinner, with breathtaking views of the iconic Grand Cul-de-Sac bay.
Day by day, Amis lives up to our core Couture Hospitality philosophy, offering tailor-made, unhurried service and featuring thoroughly charming happenings like live music sessions with The Shamans and special Experience Tables for an unforgettable evening.
Carefully crafted by Executive Chef Vincent Gomis, Sous-Chef Marie Cécile, and the dedicated Amis team, the select beach dining experiences available promise to deliver a unique moment just for you and your better half to indulge in each other's company. All in all, of course, accompanied by a menu filled with Mediterranean flavors brought to life by fresh local ingredients.
Discover the magic of Amis St. Barth and revel in something wonderful.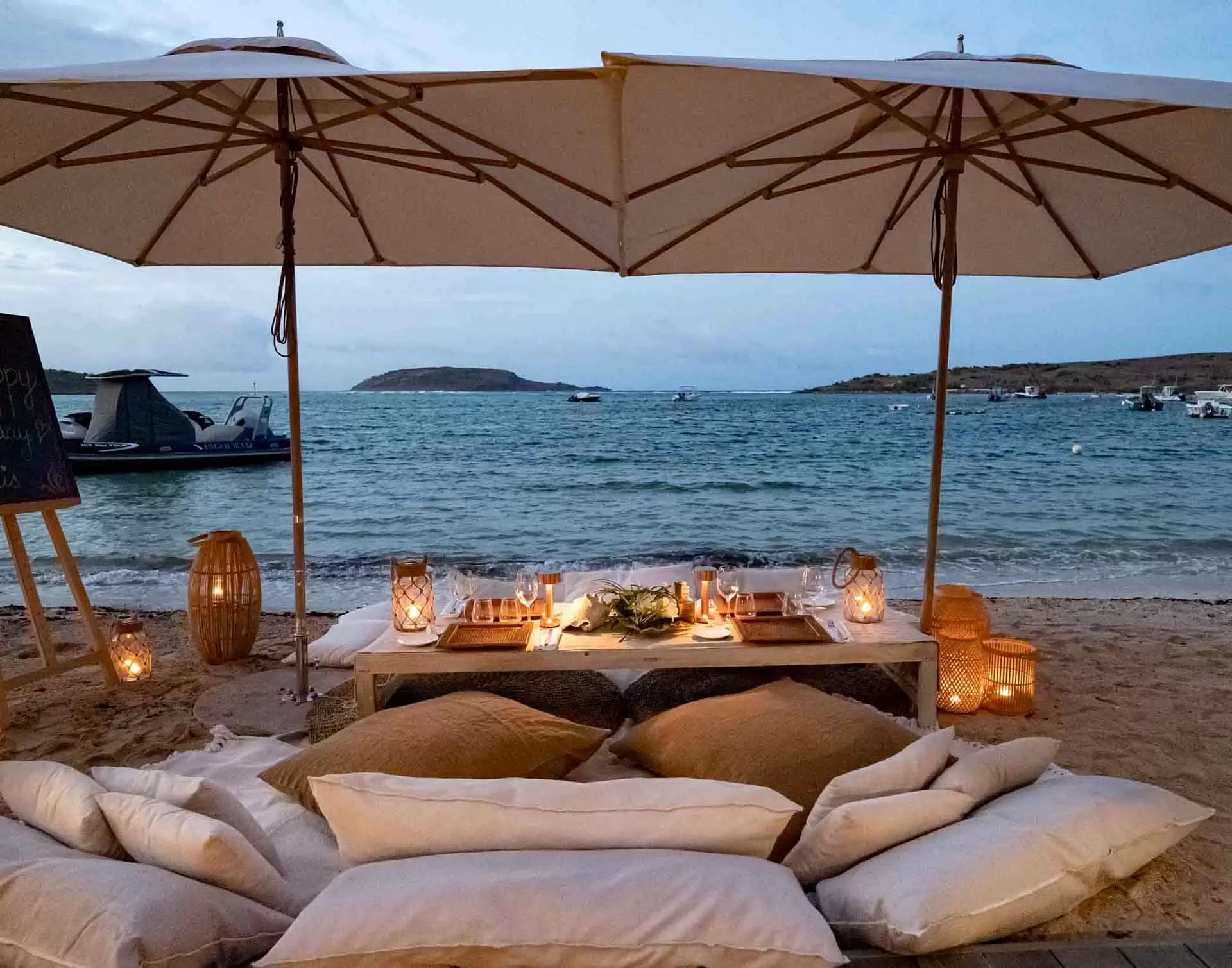 The Bohemian Table at Amis St. Barth.
Amis' Experience Tables are a unique way to live fine dining, always sparkling with possibility. They're carefully crafted ordeals, private and intimate, with exclusive settings by the beach, or inside the kitchen, right where the action is happening. Prone to fun, romance and awe, our Experience Tables are the way to make the most of a wonderful dinner with your friends, family, and loved ones.
As it is, Amis' stylish Bohemian Table is a caress to the senses, a beach dining experience that first comes in through the eyes, and leaves its first impression via an enamored sigh.
Dine under the stars, feet in the sand.
Escape to the beach, and experience an incredible meal with the rhythmic lapping of the waves in the background, and a clear, starry sky above, as a naturally enticing ceiling. Our Executive Chef will treat you to deeply flavorful Mediterranean cuisine, and the proper drinks to tie it all together.
Indulge in something truly marvelous – a beach dining experience for up to eight people, perfect for an intimate, romantic dinner or an evening with friends.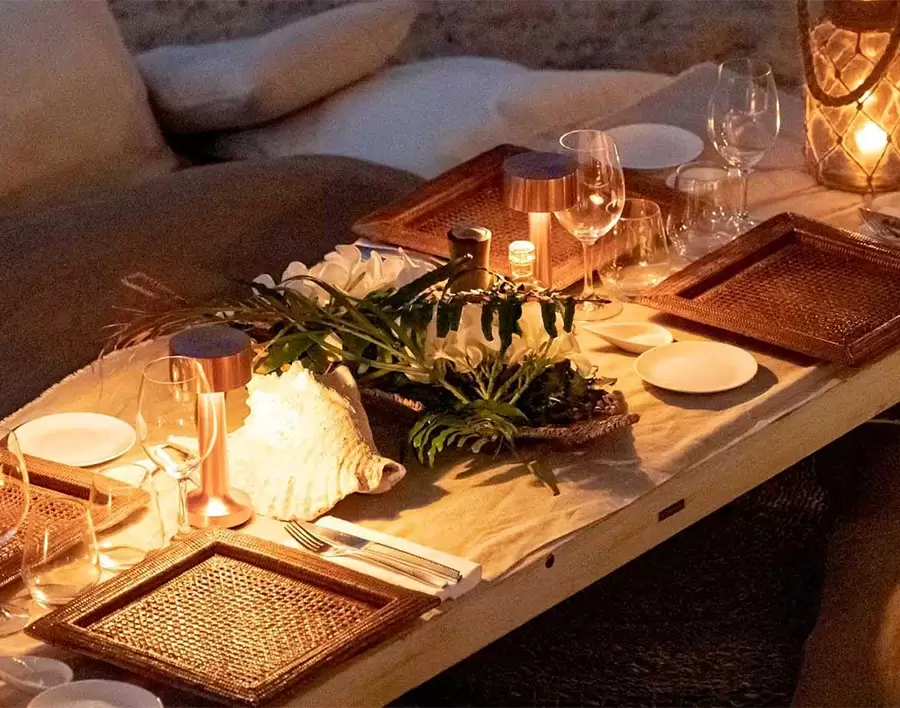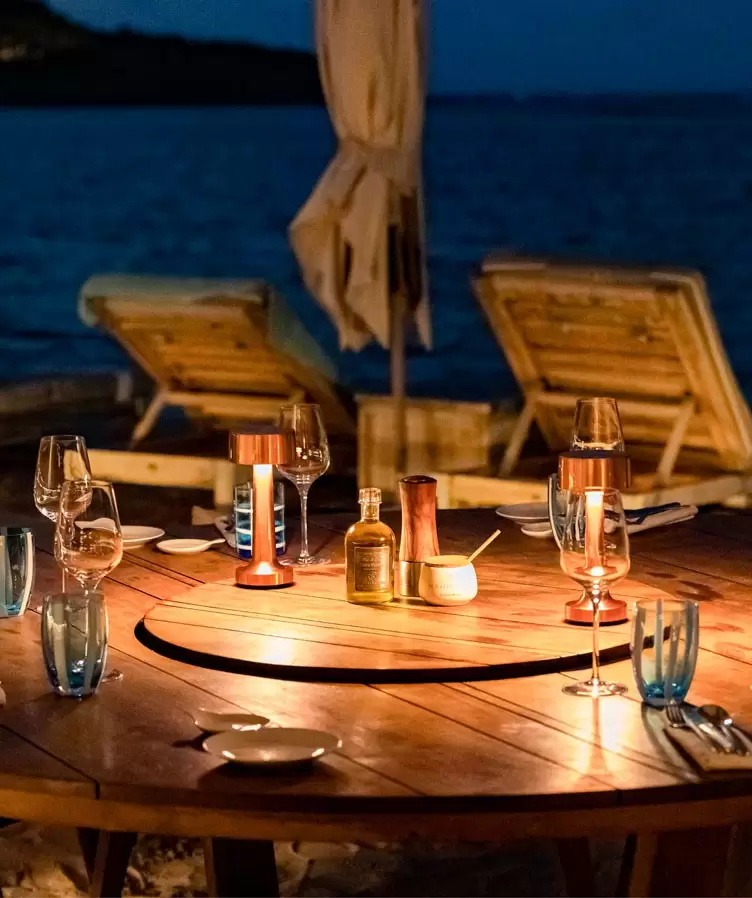 Chic Pic-Nic in Colombier.
With miles and miles of soft, pearly sand surrounded by lush tropical flora, St. Barts' beaches are the perfect scenario for a romantic seaside rendezvous. A chic pic-nic on one of the most iconic beaches, like Colombier, is the perfect choice for a sunny, summer-like day with no clouds in the sky.
Our chef will prepare a delicious meal for you and your better half to enjoy by the beach, accompanied by a deliciously refreshing champagne glass, topped with the best snacks, and of course, a setting like no other with alluring landscapes all over.
Additionally, as Colombier is a private, mostly unfrequented beach, a wide array of sea creatures, such as small fish and even gentle turtles can oftentimes be seen swimming around, making it also the ideal spot for a small impromptu snorkeling session.
Let the magic of St. Barts take over. Indulge and dare to immerse yourself in unique beach dining experiences, crafted by the skilled hands of our dedicated team.
More blogs.
All
Our Island
Our Hotel
Our Collection
Events