;
Aux Amis Restaurant, an unparalleled concept for a St Barts Wine Bar
18-Feb-2021
Gourmet travel is a pleasure like no other. St Barts is a place with many options to taste, but we can assure you that you won't find anything quite like Aux Amis Restaurant.
Traveling is a pleasure that we all enjoy; visiting a new place, admiring landscapes that are different from our surroundings, getting to know new traditions and types of cuisine. Each place has its own stamp, features that make them unique and worth visiting. When we talk about St Barts, style, cutting-edge and pleasure for all the senses comes to mind.
You can find several options to satisfy your sense of taste in this paradise in the Caribbean. But to really give you the pleasure of eating, we recommend you read ahead and discover the concept that Aux Amis by Le Barthélemy Hotel & Spa has for you in your next gourmet trip.

A friendly spot, a must in your next gourmet trip
We all have our identifying mark, which makes us special and builds the concept of ourselves. At Aux Amis Restaurant we are very clear about who we are and our mission when you visit us, in front of the peaceful bay of Grand Cul de Sac.
The team at Le Barthélemy Hotel & Spa knows that excellence in any work, even more so in service, is a constant process. That's why we are always reinventing ourselves, looking for new ways to please you and bring you sensational adventures that you can't find anywhere else in St Barts.
Regarding our gastronomic concept, at Aux Amis Restaurant we seek to extend to you a sense of camaraderie and friendship in all our service. William Girard, our Executive Chef, has revolutionized our menu, to bring it closer to you and your loved ones, seeking to promote the idea of sharing. With his extensive knowledge of French cuisine, he has seasoned our dishes with the flavors of the Caribbean. A varied gourmet menu but with a special emphasis on our unique bistronomic concept and exquisite selection of Grand Cru wines from the famous French terroirs.
For each hour of the day we have developed a particular concept, each meal is different and that deserves a special atmosphere for each moment. From a beachfront breakfast on our terrace, to contemplating the magical nights of St. Barts in the only rooftop bar on the island. At Aux Amis, you will always have your table set.
Our menu is also available with a to-go option, so you can take the vibe and heart of our food on a gourmet trip to any place on the island.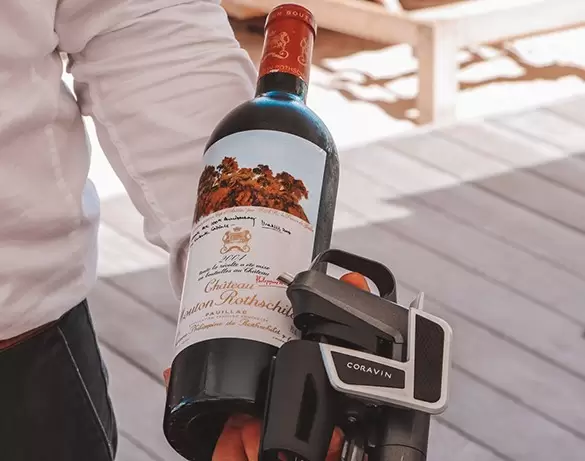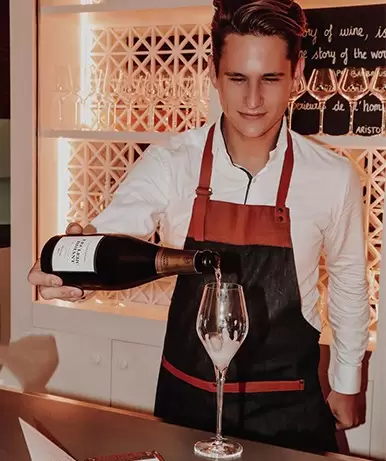 Featuring a new concept, wine bar in St Barts
William Girard has put his artistic touch on our food to bring us closer to being a bistronomic bar in St. Barts, where food and emotions are shared at the table or al fresco on the long chairs by the pool or on the beach.
After William's work, we at the staff have focused on giving Aux Amis an atmosphere of relaxed sophistication and a wine bar setting in which you will feel welcome at all times. You can take a seat anywhere in our facilities and our expert sommelier, Quentin, will come to your place to recommend the best wine to accompany your meal or your particular mood.
Quentin is always on the move all around the bar to describe for you the flavors you will find in your wine glass. Thanks to his vast experience as a professional sommelier, he will be your best ally when it comes to discovering the wine that feels best at the moment you are living and accompany the taste of what you are eating.
As in all the details we put in to let you know that you are the most precious thing to us, the service of our wine bar is designed to adapt to your needs. What you need, just how you want it. We want to share with you our passion for living and bring you the opportunity to taste our Grand Cru Wine selection. If you want to know more about our service, we recommend you to read our article about our characteristic Couture Hospitality.
Enjoy your moments of pleasure in this wine bar in the unique style of St Barts.
Taste the most outstanding Grand Cru wine selection on the island
When we say we have one of the most impressive selections of Grand Cru wines in St. Barts, it is because we have made sure of it. We want to put the best flavors on your plate and your glass, along with extraordinary service.
With the help of our Sommelier Quentin, we have selected Grand Cru wines from the most prestigious terroirs in France. Almost all of our Grand Cru wines come from Burgundy, Champagne and Bordeaux, bottled and brought directly to our wine bar, to be served with a guarantee of freshness in your glass. To find out more about where our wines come from, we recommend reading our article about the vineyards in Burgundy.
You can taste different flavors in our wine bar, which Quentin will select especially for you. To guarantee freshness in your glass, our sommelier uses the Coravin, a serving system that allows us to serve it without the need to open the bottle. The Coravin works by injecting gas into the bottle, preventing oxygen from entering the bottle and oxidizing the product.
We are one of the few wine bars in St Barts to have this system, which combined with Quentin's knowledge, makes us your best choice for tasting wines on the island as if you were in the vineyard itself.
The most selected Grand Cru wines, service to measure, a privileged place in the Bay of Grand Cul de Sac, an expert sommelier at your service: All this awaits you when you book your place at Aux Amis, by Le Barthélemy Hotel & Spa.
More blogs.
All
Our Island
Our Hotel
Our Collection
Events