;
Discover our wonderful Caribbean Easter escapade in St. Barts
04-Apr-2023
Easter is here, with its clear skies, cozy-warm weather, and colorful festive spirit, and at Le Barthélemy, we are more than ready to join in the celebrations, with our very own Easter weekend package — a tailor-made deal to enjoy the finest thing our charming little island has to offer.
From April, Saturday 8th to Monday 10th, indulge in something truly magical, and let the expert Le Barth team shower you in wonderful experiences for three days straight. Enjoy a special Easter breakfast with deliciously fresh products, feast like royalty with an exquisite Mediterranean dinner, engage in various themed activities such as our iconic children Egg hunt, and much, much more.
Join us as we review everything we have in store to make the most out of your upcoming Caribbean Easter weekend escapade.
Saturday 8th.
Easter Beach BBQ
12:00 P.M. – 04:00 P.M.
It's Saturday and our skilled Executive Chef Vincent Gomis knows it! Join him for a live cooking session right by the beach, with the soft lapping of the waves and the lively laughter of your friends setting a light, easygoing mood. Delight in a juicy Easter BBQ and indulge in a moment that will no doubt become a most-cherished memory.
Lebanese Night
07:00 P.M. – 11:00 P.M.
Feet in the sand, eyes on the horizon. Enjoy a buoyant night out, Lebanese style. Let the rich flavors of the Middle East surround you and create a dinner experience like no other, hand in hand with our chef's expert suggestions, and a special performance to top it all off with the brightest, reddest cherry out there.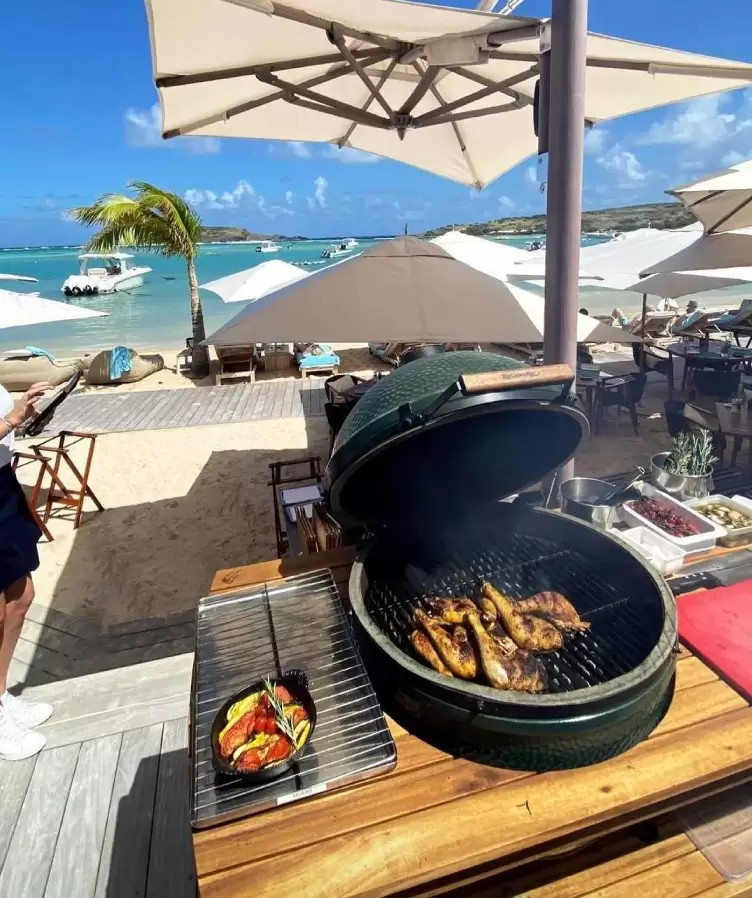 Sunday 9th.
Easter Beach BBQ
12:00 P.M. – 04:00 P.M.
To start your day on the right foot, join us once again on one of our iconic beachside BBQs, carefully cooked by our expert Executive Chef Vincent Gomis. Witness his outstanding technique as he cooks right in front of you, and later on, taste it all and marvel at the perfect seasoning.
Yoga Class
05:00 P.M. – 06:00 P.M.
Revel in a moment just for you to be at peace and in sync with your inner Self. Our Yoga classes at the W.T.F Rooftop bar are the ideal opportunity to breathe in fresh air, exhale all your worries, and marvel at the breathtaking panoramic views of the island from up high. Be sure to make your reservation. Namasté.
Movie Night Under the Stars
06:30 P.M.
To stay in-topic for this Easter Caribbean celebration, join us on a movie night session under the stars to watch Charlie and the Chocolate Factory —an all-time classic, now—, of course, with a special, sugary menu to accompany it all, with delicious chocolates, sweet candies, and crunchy traditional popcorn.
Mediterranean Dinner at Amis St. Barth
07:00 P.M. – 11:00 P.M.
Our exclusive French-Mediterranean restaurant Amis St. Barth is the perfect option to close off your day on the highest note, with a dinner as flavorful and filled with personality as it is stunning and harmonious with the island. Fresh, local ingredients mixing seamlessly to deliver something wonderful.
Monday 10th.
Easter Make-up Workshop
10:30 A.M. - 11:15 A.M.
Amis St. Barth's Sparkling Table becomes an unmissable experience for kids with an Easter-themed make-up workshop where your little ones will be able to feel the magic of the season all the way through. Before joining in the long-awaited Easter Egg hunt, make sure to look the part and be in full festive spirit!
Let the Egg Hunt begin!
11:15 A.M.
The fun of Easter has arrived! Let your little ones participate in an exciting Easter Egg hunt throughout our lush tropical garden, and engage in one of the most wonderful traditions this special date has to offer. Spend an unforgettable moment together as a family, and take your Monday morning to the next level.
Easter Beach BBQ
12:00 P.M. – 04:00 P.M.
As the best Caribbean Easter escapade slowly but surely comes to an end, one last beachside BBQ sounds like the perfect opportunity to fondly look back on what have been three days filled to the brim with excitement and fun. Let's all gather once again by the beach and make the most out of it!
Mediterranean Dinner at Amis St. Barth
07:00 P.M. – 11:00 P.M.
Let's wrap it all up with a golden ribbon and the best atmosphere at Amis St. Barth. Let the flavors of the Mediterranean mixed with the uniqueness of French cuisine sweep you off your feet.
Discover Le Barth's exclusive Easter package, and treat yourself to la crème de la crème.
More blogs.
All
Our Island
Our Hotel
Our Collection
Events