;
All the Essentials are at Le Barth Villa Rental
29-Dec-2022
Get ready to pop the bubbly, and let's welcome 2023 with wide open arms in one of the trendiest Caribbean destinations, the always-sunny St. Barts, with its lush green hills, soft white sands, and sparkling blue waters.
Picture waking up by the sea, with breathtaking landscapes all around, in a luxury villa that feels just like home, with your loved ones warm, content, and well taken care of. At our sister brand Le Barth Villa Rental, it's all a reality, with their wide catalog of over 200 state-of-the-art properties entirely at your disposal to plan a dreamlike escapade to the beach and host a New Years' party like nothing ever seen before.
Whether for a long-awaited family reunion, the annual friend's getaway, or a romantic retreat with your better half, their All the Essentials brand-new offer has got you covered with chic gifts and delightful surprises to step into the future with the right foot.
Treat yourself to a biodynamic Champagne glass from Leclerc Briant and toast to an amazing year that got to say goodbye on the highest note; taste the holidays with a special dining experience carefully curated at our fine-dining restaurant Amis St. Barth, and let wonder take over with a sunset sail around the island on the crystal blue waters of the Caribbean Sea, for a perfect last day of 2022.
Finally, to let the New Year in and celebrate in style, pop some bubbly and santé! Let's party! Enjoy the comfort of your very own private, luxury villa while dancing to the best music and singing at the top of your lungs.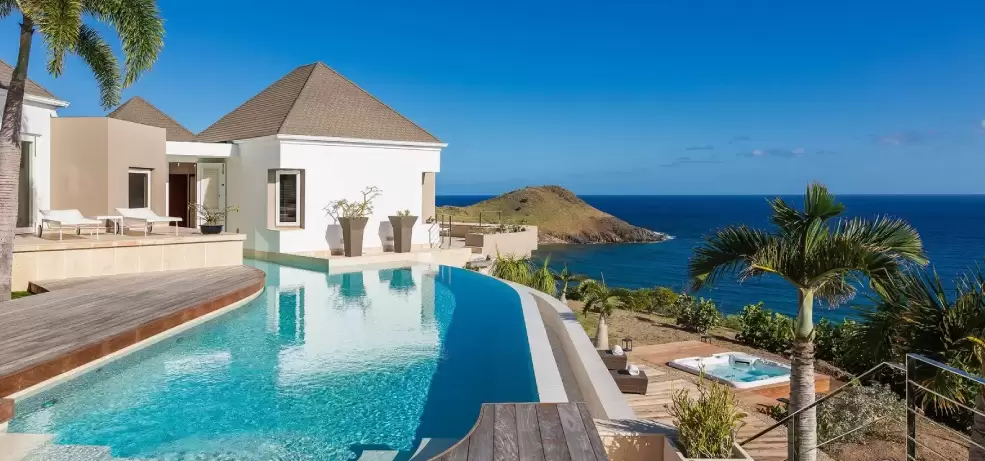 Le Barthélemy Hotel & Spa joins the party!
We didn't want to miss out on the fun, of course, and to take your private infinity pool parties to the next level, joined Le Barth Villa Rental in tailoring a stay like no other, with dedicated beach loungers on the Grand Cul de Sac bay to deeply rest while listening to the rhythmic lapping of the waves in the background, and live music sessions at the Whiskey Tango Foxtrot rooftop bar to enjoy your colorful cocktails in the best atmosphere out there.
Additionally, Le Spa, the only Spa de La Mer in the Caribbean and our wellness sanctuary built on restorative procedures and making the most out of the perks of nature, will be waiting for you with wide open arms and just the right treatment for you.
With private chefs available to cook exquisite Michelin-star level meals upon request for a quiet night in at the villa, and a dynamic, tasteful menu at our recently renovated, French-Mediterranean restaurant Amis St. Barth, all kinds of flavors will be just within reach and always ready to make you feel like traveling through time and space.
Finally, the wonders of our island, its unbeatable views and warm, serene nights, will create the perfect mood, the ideal setting for what already promises to be an unforgettable celebration, a fond memory to look back to when thinking of your favorite place on Earth and your favorite moment from late 2022 and early 2023. Trust the expertise of Le Barthélemy Hotel & Spa and Le Barth Villa Rental combined, and treat yourself to a beyond charming holiday.
More blogs.
All
Our Island
Our Hotel
Our Collection
Events