;
Relish in this outstanding Caribbean Spa by La Mer in St Barts
28-Apr-2020
Along with the relaxing atmosphere in this heavenly destination, this hotel has spa facilities worthy of consideration when you are planning your next trip to a wellness hotel.
Certainly, it is necessary to allow ourselves to take a breath from time to time and recompose our senses, as well as to renew our body and mind in order to prepare for the new challenges awaiting us. There is not an abundance of places where you can rest your mind, push the standby button and just revel in. Fortunately Le Barthélemy Hotel & Spa at the beautiful Caribbean island of St Barts is one of a kind to achieve this sense of peace and serenity.
Along with the relaxing atmosphere in this heavenly destination, this hotel has spa facilities worthy of consideration when you are planning your next trip to a wellness hotel. Let this blog guide you through the experience you will live in Le Barthélemy Hotel & Spa, you will be convinced that there is no better spot to spend your next vacation.
The most amazing Spa facilities.
Located at the center of the beautiful and calm bay of Grand Cul de Sac, northeast of St Barts, the first thing that stands out about this spa is its location. Le Barthélemy Hotel & Spa assembles the perfect set to relish in relaxation in this wellness hotel, with the white sand on your feet and a wonderful view of the crystal waters of the French Caribbean. With this scenery you already begin to feel that vibe of peace, a first sign that you're in the right place to delight your soul.
Le Barthélemy is a hotel prepared to honor its clientele, every detail is planned to show its visitors that their satisfaction is the most important concern for the team. From the reception, to the rooms and the exclusive villas, the hotel makes a statement of wellness to its guests, with the spa facilities acting as the axis of a holiday centered on indulging yourself.
Le Spa by La Mer is distributed in such a way that its visitors can live a complete wellness trip. The interior design is by Sybille de Margerie, a French architect specializing in interior design with a worldwide reputation for innovative work and an attention to detail that takes you into fantasy worlds. To top off the decoration, you will be able to appreciate works of art by Thierry Martenon, an artist born in Grenoble, France, who likes to combine different techniques to develop his work in a sculptural and aesthetic sense and thus reveal the quintessence of trees with smooth and refined shapes, so that your eyes can also revel in the ultimate spa experience.
Le Spa features four massage cabins for you to relax with the highest quality products, highlighting La Mer, whose prestigious brand gives its name to the spa. You will also find a manicure/pedicure cabin for your nails to be at their best all along your stay.
Aiming to purify your skin in Le Spa facilities, Le Hammam is strongly advised: this Middle East steam bath, heated to 80º Celsius, allows your pores to open up to detoxify your body, an indispensable tool for renewing your skin by purifying. Breathe in the scent of eucalyptus while Le Hammam performs wonders for you.
Le Spa by La Mer also features a Sauna, a well being-ritual from Finland, heated at 80º and known to strengthen the immune system, act on sleep disorders, anxiety, nervousness and muscle pains. After your Sauna session, discover the 3 vitality pools, originary from Scandinavia and composed of noble and resistant Red Cedar wood, enjoy with intervals of immersion in warm water at 38º, and two cold water immersions at 11º and 5º respectively. The vitality pools provide unique benefits, including the cleansing of your skin, relieving tired and aching muscles, increasing circulation and relaxing the mind and body.
At the end of your sessions, you can have a toning cup of tea in the veranda while gazing up at the Caribbean sky. Le Barthélemy is the unique hotel that can boast a true spa experience in St. Barts.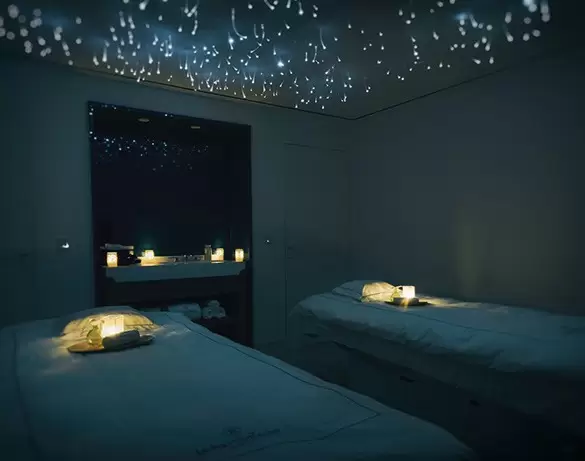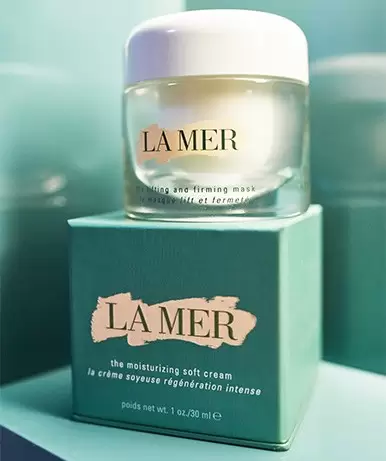 The one and only La Mer Spa in the Caribbean.
Le Spa at Le Barthélemy has the privileged partnership of La Mer cosmetics brand, one of the most prestigious in the market. La Mer products are renowned and recommended by beauty care experts for achieving impressive results once applied. A session with La Mer grants an immaculate skin that could look like a miracle. But beyond what a beauty care expert could say, the ultimate proof you'll find is in the many benefits you'll notice after just one session. Trust your body.
Le Barthélemy Spa by La Mer is the only La Mer Spa in the Caribbean, standing out even more to become your best option for your trip to a wellness hotel; the facial treatments are performed with La Mer products, such as La Crème de la Mer, developed by Doctor of Physics Max Huber. On a quest to repair his skin after an accident, finding in seaweed and other natural ingredients the main source of restoration for his skin, creating the Crème de la Mer and sharing to the world the power of the sea to restore your skin and leave it so soft that it looks like the work of a miracle.
The therapists receive a complete and meticulous training to obtain the most precise techniques to apply the products and give the clients a true La Mer experience. It's all about giving you a sense of why this is the leading American luxury cosmetics brand and is so highly valued around the world.
In addition to the brand training, each one of the therapists working at Le Spa, has been selected for their perfection in the variety of techniques required in a spa, their experience in luxurious establishments and the handling of the highest quality spa product brands. Le Spa by La Mer implements Forbes quality control on a daily basis to maintain the highest standard of service for its clients.
Thanks to the great ability of the therapists in various massage techniques, they are able to provide a high level treatment, personalized just for you, such as the Tailor Made massage or the Signature Massage: performed for 80 minutes with the forearms and elbows, creating a choreography on your body with deep and rhythmic movements emulating the movement of the waves, to reach a deep muscle relaxation and removing the tension from your body. Our team promises a service tailored for you and your lifestyle.
The staff are experts in adapting to your needs, you can talk to them and find the appropriate treatment for you. At Le Barthélemy Hotel & Spa, you will find a unique experience that you will want to relive constantly.
You will fall in love with this exclusive spa.
Beyond the beautiful facilities, the wonderful La Mer products for beauty care, the tranquility of the Caribbean Sea, the management of Le Spa at Le Barthélemy puts its greatest focus on humane treatment. The staff welcomes you warmly and makes every effort to satisfy every person who visits the spa facilities, brimming with wellness, and therefore a frequent client, so that you become part of the family.
As every family, we are generous with each member, children are welcome to receive the benefits that Le Spa treatments provide, because you are never too young to indulge the senses. It's an excellent opportunity to create a bond with your little ones, while both of them enjoy themselves in an atmosphere worthy of creating an unforgettable memory.
Now you know, St. Barts is waiting for you to take your next vacation and experience this feeling of peace and wellness, with the harmony between your body and soul to address your unique goals. A place to pamper yourself as you really deserve it at Le Barthélemy Hotel & Spa.
More blogs.
All
Our Island
Our Hotel
Our Collection
Events